Gordon D. Schreck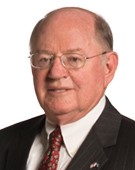 Member & Arbitrator, Maritime Arbitration Association
Email:
gordon.schreck.retired@wbd-us.com

Telephone:
1-843-722-3400 (Office)
1-843-906-8523 (Cell)

Physical Address:

5 Exchange Street
Charleston, S.C. 29401

Mailing Address:

Post Office Box 999
Charleston, S.C. 29402

Professional Background:
Mr. Schreck transitioned from Senior Partner to Retired Partner status with the law firm Womble Bond Dickinson, effective January 1, 2018, after a distinguished career of almost 50 years specializing in admiralty and maritime law. He now serves as a distinguished visiting adjunct professor at The Charleston School of Law, where he also chairs the Charleston Maritime Law Institute. During his active practice, he chaired his firm's Admiralty and Maritime Practice Group, representing shipowners and their P&I Clubs at the Port of Charleston, and handling a wide variety of maritime litigation matters, including cargo damage, collision and allision casualties, marine-related oil and HAZMAT spills, and maritime personal injury cases.
Industry Background:
Schreck continues to serve as an active member of both the Maritime Law Association of the United States ("MLA"), the nation's leading organization for admiralty and maritime practitioners, and the Southeastern Admiralty Law Institute ("SEALI"). He formerly served on the MLA's Board of Directors, and currently serves on both its Nominating and Proctor Membership Committees, in addition to its standing committees on the Carriage of Goods and Recreational Boating. He served as Chairman of SEALI in 1983, and continues to serve on its advisory board.
Throughout his professional career, Schreck has been and continues to be active in various maritime industry organizations in the Port of Charleston, including the Propeller Club (former president), Maritime Association of South Carolina (former board chair and chair emeritus), and the Coast Guard's Charleston Area Maritime Security Committee. In 2018, Schreck was awarded the Beacon Award by the Maritime Association for his distinguished service to the maritime industry.
After graduating from the University of Virginia School of Law in 1969, Schreck entered private practice in Charleston, South Carolina, specializing in admiralty law, and service as legal correspondence at the Port of Charleston for virtually all of the world's P&I marine insurers. During his almost 50 years of active practice, he represented shipowners and operators in a wide variety of commercial shipping casualties and litigation, as well as transportation companies and recreational boating insurers.
ADR Experience:
Mediator in over a dozen court-ordered mediations in state and federal courts.
Certified Arbitrator, Maritime Arbitration Association of the United States.
Bar Admissions:
Virginia State Bar (1969)
South Carolina State Bar (1970)
Education:
University of Virginia School of Law, LL.B. (1969)
Hampden-Sydney College, B.A. (1965)
Professional/Industry Associations:
Martindale-Hubbell, AV Peer Review Rated
The Best Lawyers in America (since 3rd Ed., 1989)
Presentations:
In addition to lecturing on maritime law topics at both the Charleston School of Law and the University of South Carolina School of Law, Schreck has been a frequent speaker at regional and national maritime law conferences, including ACI's Annual Forum on Admiralty and Maritime Claims and Litigation, and SEALI's Annual Seminar on Admiralty Law.